Talk about some awesome news today!
Just found out that Fresh Fiction named Mission of Christmas as
a Fresh pick for today!!
Whoot whoot!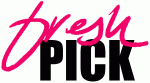 November 30, 2013
From the website:
The Fresh Pick is chosen by a group of readers and is never a
purchased advertisement or promotion. We've chosen your book
because it appeals to us and we like to share our diverse tastes
in reading and hope other readers will give it a try.
Follow Fresh Fiction on Twitter and Facebook